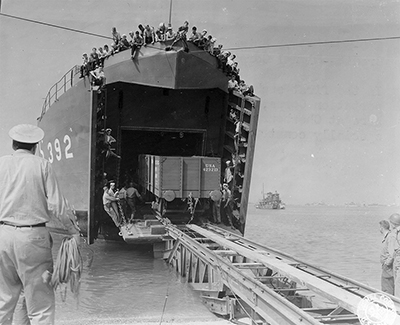 Thanks for coming over to our little piece of the net dedicated to our Father and the many years he spent serving his country. Inside you will find stories about his life, his likes and dislikes, and the many ships he sailed on during World War Two, and even Korea.
When "Pappy" passed on from this earth we wondered if anyone out there (other than our immediate family members) would ever visit a site as old and as personal as this one.
Since that day we have watched as his numbers continuously increase; letters come in with many questions, by people doing research reports, projects, lost family members in search of what happened to their loved ones during that fateful day the first L.S.T. (the 333) was sunk by the German Navy, and generally a constant viewing of the material found in these pages.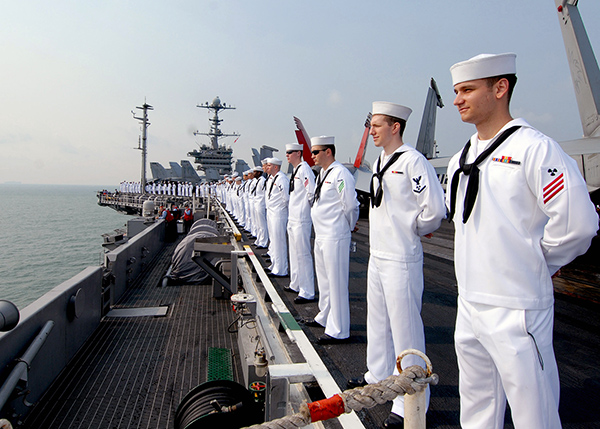 (Click above to read about Joining The Navy, a great opportunity)
We are grateful of our Father's service to his country and know that he did thus with the selfless intent of ensuring the freedoms we all enjoy in these United States today.
We miss you Paw Paw
June 22nd, 1921 to April 11th, 2011 R.I.P.
The Story of Lt. Col. Martha Raye and the USO
"It was just before Thanksgiving '67 and we were ferrying dead and wounded from a large GRF west of Pleiku. We had run out of body bags by noon, so the Hook (CH-47 CHINOOK) was pretty rough in the back.All of a sudden, we heard a 'take-charge' woman's voice in the rear. There was the singer and actress, Martha Raye, with a Special Forces beret and jungle fatigues, with subdued markings, helping the wounded into the Chinook, and carrying the dead aboard. Maggie' had been visiting her Special Forces (SF) 'heroes' out 'west'. We took off, short of fuel, and headed to the USAF hospital pad at Pleiku.

As we all started unloading our sad pax's, a USAF Captain said to Martha.... "Ms Raye, with all these dead and wounded to process, there would not be time for your show!" To all of our surprise, she pulled on her right collar and said "Captain, see this eagle? I am a full 'Bird' Colonel in the US Army Reserve, and on this is a 'Caduceus' which means I am also a Nurse, with a surgical specialty.... now, take me to your wounded!"

He said, "Yes ma'am.... follow me."

Several times at the Army Field Hospital in Pleiku, she would 'cover' a surgical shift, giving a nurse a well-deserved break.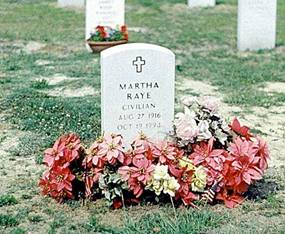 Martha is the only woman buried in the
SF (Special Forces) cemetery at Ft Bragg.
2019 Tiger1 Productions, Ltd.